Usually, I can never see a film before reading the book, but this time I broke my own rule. I thought I was never going to read the book and was given the DVD- a week later I was lent the book. That'll teach me.
Anyway, I didn't think it made me enjoy the book any less, I just knew what was going to happen, which was a bit annoying as it's always nice not to know what's happening next, but that's nothing to do with the book. As I usually find, the book was better than the film, and this was no exception to that rule.
And while he's not the biggest geek in the school, he is by no means popular. Shy, introspective, intelligent beyond his years yet socially awkward, he is a wallflower, caught between trying to live his life and trying to run from it.
Charlie is attempting to navigate his way through uncharted territory: the world of first dates and mix tapes, family dramas and new friends; the world of sex, drugs, and The Rocky Horror Picture Show, when all one requires is that perfect song on that perfect drive to feel infinite. But he can't stay on the sideline forever. Standing on the fringes of life offers a unique perspective. But there comes a time to see what it looks like from the dance floor.
As I sort of already knew what the book was about from the film, the main thing that stood out to me was the writing style. Stephen Chbosky has written this book in a style that suits Charlie (the main character whose eyes the book is written through) so much! I can't really describe it, but it's very much individual and there are a lot of short sentences. For example: ''I do not like high school. The Cafeteria is called the 'Nutrition Center' which is strange." I don't know if anyone else noticed it, but for me, it suits Charlie as I picture him perfectly.
Talking of Charlie, he is a brilliant character. Not used to having friends or being anything other than a wallflower, it's really interesting to see him react to different situations. He's a really easy character to love because he's sort of innocent and very kind but has a lot of problems too. It's surprising how much is left out of the film, because in the book you realise just how broken Charlie really is.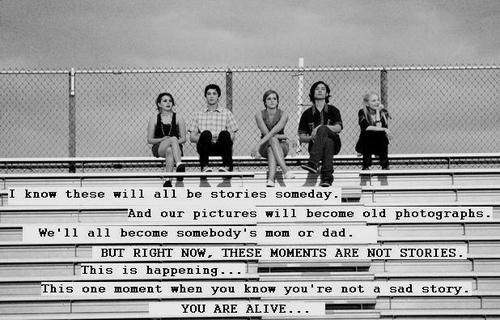 Being broken is sort of a theme in this book. Almost every character has some sort of difficulty in their past or present, which some might see as too much, but if you really think about it, everyone does has problems in real life, however big or small. The way that these characters all have a back story was, I thought, really great. It made the book very true to life. Some of the issues that are talked about can be sensitive but I thought these were dealt with in any way that a teenager would want them to be. I personally think that a lot of teenagers are exposed to issues such as drugs and depression, so this was not unrealistic and wasn't dramatized very much, which is how most people deal with things.
I would recommend this book to people who enjoy coming of age stories. On the front cover of the copy I read, the book was likened to The Catcher in the Rye by J.D Salinger, and I can definitely see the resemblance. If you enjoyed J.D Salinger's amazing story, then you will, I think, enjoy this. YA Contemporary at it's most honest.